Viruses, malware and remote attacks on Antminers
Viruses, malware and remote attacks on Antminers
Description
Three Steps to Handle and Eliminate:
1. Quarantine your network (IMPORTANT!)
If you have detected a threat, identify the infected PC or miners.
What is the behavior of an infected miner? You will see that your miner is actually mining for a hidden pool - a pool that you did not sign up for, or see your wallet hijacked and coins stolen, etc...
Check all your PC and miners and determine which PC or miners are infected by a virus. Then prevent the virus from spreading through network by quarantine the infected ones.
It is critical that you remove the compromised PC or miner from the network or add it to a "quarantine network." Otherwise, the virus will spread as it infects other computers on the network.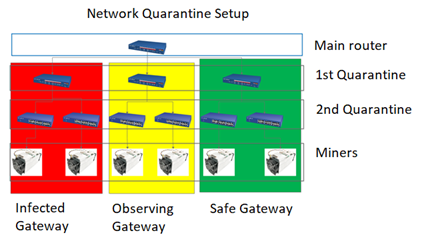 2. Reset to factory settings
Please refer the page below to learn more about how to reset your infected miners to factory settings.
You can also use a SD card to reset your miner to factory setting and flush the miner with the latest firmware.
3. Change your password!
The first thing you need to do after resetting your miner is to change the miner's password to a strong and secure one.
6 March 2019
Viewed count: 165
14 February 2020
3
همه چیز درباره اورکلاکینگ و بهینه سازی مصرف دستگاه های ماینر Antminer T17 , S17
Read More...